Seven new items debut at Pricebenders!
1
Apple Watch Sport, 42mm Space Gray Aluminum w/ Black Sport Band
You. At a glance. The Apple Watch Sport is more than "just" a watch…it's a virtual companion designed to broaden your options while simplifying your life. Receive and respond to your favorite notifications. Get the motivation you need to stay active and healthy. Express your personal style in a whole new way. From the way it works to the way it looks, the Apple Watch isn't only something you wear. It's an essential part of who you are!
Look for the first auction for the Apple Watch Sport on Sunday, June 19, beginning at 10:00 AM
2
Philips Morning Wake-Up Light With Colored Sunrise Simulation and Dusk Fading Night Light
The Philips Wake-Up Light provides a pleasant, natural way to start your morning. Featuring a colored sunrise simulation and 20 brightness settings, the light gradually increases between 20 to 40 minutes prior to your alarm time. The light also offers the option of waking up to one of five different nature-inspired sounds. Backed by clinical research, the UV-free Wake-Up Light is proven to wake you up with an improved mood and energy level. A light-responsive dimming feature guides you to natural, restful sleep.
Look for the first auction for the Philips Morning Wake-Up Light on Monday, June 20, beginning at 8:30 AM.



3
Motorola Moto 360 Smart Watch, Stone Grey Leather
A modern timepiece with classic flair, the Moto 360 smartwatch is crafted with the finest materials for a comfortable, familiar fit. The Moto 360 keeps you up to date without taking you away from the moment. Glance at your wrist to see updates or just speak to get the info you need…because it's time a watch told you more than just the time!
Look for the first auction for the Motorola 360 on Monday, June 20, beginning at 10 AM
4
Samsung Gear VR–Virtual Reality Headset
Mobile virtual reality is finally here. With the Samsung Gear VR, you can play amazing games, watch Hollywood's best movies in your own private cinema (or even on the moon!), socialize with friends new and old, be at the center of a suspense thriller, and so much more. The Gear VR drops you right into the action–and it's only from Samsung & Oculus.
Look for the first auction for the Samsung Gear VR on Monday, June 20, beginning at 7 PM.



5
Sphero Star Wars BB-8 Droid

This is the Droid you're looking for.
Meet BB-8–the app-enabled Droid from the world of "Star Wars: The Force Awakens" that's as authentic as it is advanced. BB-8 has something unlike any other robot: an adaptive personality that changes as you play. Based on your interactions, BB-8 will show a range of expressions and even perk up when you give voice commands. Set it to patrol and watch your Droid explore autonomously, make up your own adventure and guide BB-8 yourself, or create and view holographic recordings.
It's now possible to explore the galaxy with your own trusty Astromech Droid by your side! BB-8 is more than a toy–it's your companion.
Look for the first auction for BB-8 on Tuesday, June 21, beginning at 10 AM.



6
Pebble Steel Smartwatch, Black Matte
Smart is sexy with the Pebble Steel!
The Pebble Steel brings smart function and elegant form together. Ruggedly handsome, Pebble Steel is crafted from marine-grade stainless steel and Corning Gorilla Glass, so it's as tough as it is good looking–and its battery lasts up to 7 days on a single charge. It's built with the same brains as Pebble, so you get notifications at a glance as well as the latest scores, your Starbucks card, or even your airline boarding pass on your wrist. Pebble's Timeline interface arranges all of your daily events, reminders and notifications in an easy-to-read chronological view.
Look for the first auction for Pebble Steel on Wednesday, June 22, beginning at 7 AM.



7
Noke Padlock – Keyless Bluetooth Smart Padlock
No more combinations to remember or little keys to keep track of! The Noke Padock employs Bluetooth technology via your iOS or Android phone for easy, hassle-free security. With the Noke smart lock and your smartphone, you'll always have easy access to all the important things in your life. You'll even be able to share access to your possessions with your family and trusted friends easily, safely, and securely.
Look for the first auction for Noke Padlock on Thursday, June 23, beginning at 2:30 PM.



SEE MORE PRIZES FOR PRICEBENDERS HERE!
What Is Pricebenders?
HOW IT WORKS
Pricebenders Rules & Policies
Winning An Auction & Getting Your Item
ATTN:

Winning bidders living outside the U.S. and Canada can receive this  .or a similar product (or an item of their choice at a comparable price) through our "

Your Choice Drop Shipping"

program

Learn About

"Your Choice Dropshipping"

(YCD)for
Pricebenders
SEE NEW

"BUY NOW"

FEATURE AT PRICEBENDERS
SEE LATEST Winners here
Participate in
  LIVE Auctions Here
PREDICT THE FINAL PRICE (PTP) FOR UPCOMING AUCTIONS AND WIN!!
TCREDITS!! Which is a currency at  TripleClicks!!!

PTP Winning Tips Here
 PTP Winners List
Upcoming Actions  Here
Participate in PTP Here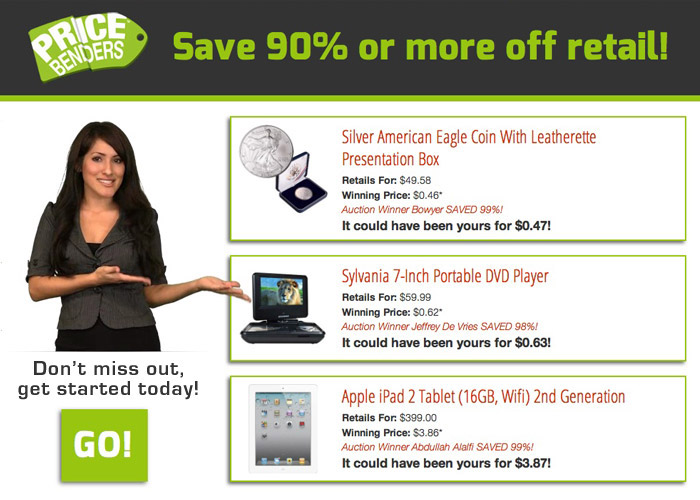 Save