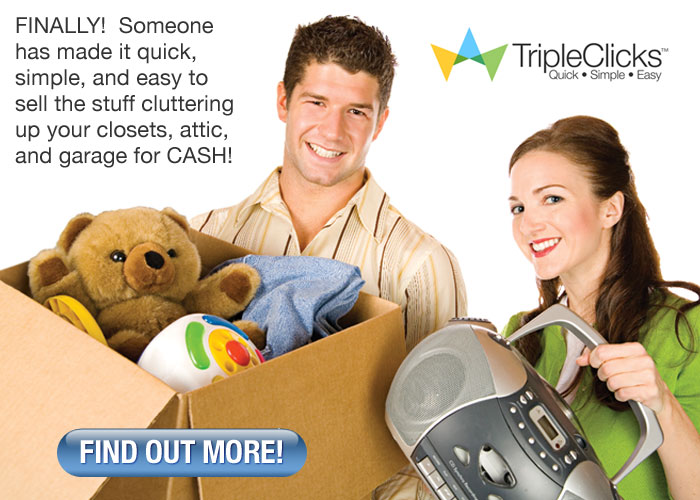 You can have your Garage Sale With us!!
Sell Your Stuff!
'TripleClicks" have made it quick, simple, and easy to sell the stuff you no longer need for cash (or great products).
Use TripleClicks as your online garage sale to clean out your closets, attic, and garage! Easily list and sell dozens of miscellaneous items!
Why stash…when you can have cash? Or, convert the stuff you no longer want…into stuff you do! TripleClicks offers you thousands of new, brand-name products plus collectables and more, with new items added daily. It's your choice: convert to cash or products you want.
See here for Product restrictions
HERE IS HOW!
1…Must register as a TripleClicks Member (if you haven't already). It's FREE and there's never any obligation.
2…If you don't already have some, purchase some TCredits (for as little as 29 cents each) to use whenever you want.Valid one full year from the date you receive them.
3…List Your Items(each listing costs you just one credit). You can use up to 700 words and up to three photos for each item and we'll continue to run your listing for as long as you'd like.
4…Each time someone buys one of your items, we'll notify you with an email so you can ship the item to the buyer. Once delivery is confirmed, you get paid! It's that easy!
Keep in mind, though, some items are much more viable for selling than others. Items that can be easily, inexpensively, and safely shipped worldwide will always be your best bet. Here are some examples to give you some ideas:
Old jewelry
CDs, DVDs, records
Video consoles and games
Collectables (coins, figurines, stamp collections, etc.)
Sports gear you're no longer using (golf clubs, knee pads, aluminum bats, etc.)
Bicycles, skateboards, scooters, etc., that your family has outgrown
Toys that your older kids no longer play with
Webkinz™ plush animals and Beanie Babies™
Old house and lawn furniture that's still in good condition
Antiques and other valuable older items
Vintage clothing and accessories
Classic and antique car parts
Tools and tool sets
Small-engine repair and maintenance appliances (chain saws, brush trimmers, sanders, etc.) you no longer need/use
Electronic gadgets collecting dust in your storage bin
Crafts and artwork (handmade jewelry, baskets, embroidery, etc.)
Radios, TVs, stereo components
Bedspreads, quilts, coverlets, etc.
Unused or like-new pet products (leashes, bowls, toys, harnesses, etc.)
Fancy picture frames
Kitchen gadgets (blenders, microwaves, etc.)
Fans and space heaters in good condition
Unused, unopened cosmetics and beauty products/items
Note that you can choose to offer local pickups (no shipping), if you don't want to hassle with shipping and/or you want to sell large items like bikes, cars, farm equipment, etc.
IMPORTANT!
There are items and services that CANNOT be listed at TripleClicks (i.e., you can't sell fireworks, guns, or human organs).
 Learn More Here….http://tinyurl.com/lb4sf7w
START YOUR LISTINGS HERE!!